The Festival Season Is Almost Here, Be A VIP Wherever You Go
Mardi Gras is over, but the party continues in New Orleans. We are at the beginning of a busy festival season. No matter what events you decide to go to we can get you there without you having to worry about the traffic or the always ongoing construction work in New Orleans. We can also get you backstage passes and make sure you get the VIP treatment you deserve! Here a few events you don't want to miss this year!
Buku 2019
Don't miss Buku 2019 the music and arts festival in New Orleans on March 22 & 23. Expect performances from Lana Del Rey, Griz, Excision, Kevin Gates many more, plus live art events.
For a full lineup visit: https://www.thebukuproject.com/lineup/
Hogs For The Cause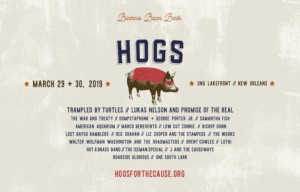 Don't miss Hogs For The Cause Friday, March 29th and Saturday March 30 at the UNO Lakefront Arena. The events supports families, fighting pediatric brain cancer. Kick off festival season right … with music, barbecue and community!  March 29th – 30th, 2019 Hogs for the Cause returns as the largest. New Orleans welcomes 85 local and regional BBQ masters and the best backyard chefs to compete in seven categories: Whole Hog, Ribs, Pork Butt/Shoulder, Porkpourri, Sauce, Fan Favorite, and Fundraising Champion.
For more information and tickets visit: https://hogsforthecause.org/tickets/
New Orleans Wine and Food Experience (NOWFE) 2019
Each year, hundreds of wineries and restaurants participate in the New Orleans Wine and Food Experience (NOWFE) This year the event will take place April 3-7.  Menus feature local flavor and innovative new creations inspired by diverse cuisines. Top chefs from around the city create culinary experiences like no other. Over two dozen restaurants feature special dining evenings throughout the New Orleans festival. The weekend also features over 1,000 wines from around the world, with special tasting events from wineries. You can enjoy grand tasting events, promenade evenings in the French Quarter, and seminar series to hone your palate.
For more information visit: https://www.nowfe.com/
French Quarter Festival
The 36th annual French Quarter Festival presented by Chevron is April 11-14! #fqf19 is the world's largest showcase of Louisiana food, music, and culture! The fest is free and open to the public – visit frenchquarterfest.org for details!
Make your own Adventure
We offer a wide variety of experiences including tours and trips. Charter a boat for your fishing trip, spend a night at a waterfront cabin, or play a relaxing round of golf before heading to a sports event or concert we got you backstage passes for. If you want to experience Louisiana right go on a swamp tour or visit a historic plantation….we have it all just give us a call (504) 606-6261!
Expect The Extraordinary from New Orleans VIP Experience
Book Your Trip Today!