Scout Island Scream Park: A Good Scare For Your Family
Scout Island Scream Park which opens on Friday, September 27, is a unique, immersive experience in New Orleans City Park. It's a Family Fun Festival which opens around lunch time on the weekends between late September and early November with Festival music, food, entertainment, carnival rides and  a hay ride. Scout Island Scream Park features an amazing Kid Zone! As night falls, Scout Island Scream Park evolves into a dark carnival with unusual monsters, great illusions, stunning special FX, and original costumes, makeup, animations and frightening detail created by the artists of The Mortuary Haunted Mansion. The island located in the park just North of I-610 will become a thrill-seeker's dream or nightmare. We at New Orleans VIP can get your there safely!
Here a sneak peek at what Scout Island Scream Park has planned for you this year!
Haunted Attractions
Stitch's Body Emporium Haunted House
The doctor is not a servant of the people. He is a Picasso of blood. Known as Stitch, this dog-faced terrorist fancies himself an artist with a never-ending thirst for the kill. His greed of perfection drives him to remake flesh.
Pharaoh's Fury Haunted House
There are worse things than Death! Explore the ancient Egyptian Tomb of Anubis, the God of Death, where danger looms around every turn. Escape in "Indiana Jones" style with life threatening traps and snares.  Spikes, Snakes, Crocs, and The Living Dead… Face the Mummy's Curse in PHARAOH'S FURY HAUNTED HOUSE!
Zombie Outbreak Battle Field
APOCALYPSE is an interactive, live combat zombie themed undead shootout! It's a live action, zombie survival experience thrusting guests into this apocalyptic world, shooting their way on a "fight or die" survival mission through the living-dead. Members of the team will use video-game-like, infrared military training replica weapons to clear the infected in an infested military base where the undead thrive. Then your team must venture out into the dark woods, clearing the surrounding area, before finishing your experience discovering the lab where the outbreak began. It's a cutting edge haunted house experience on steroids, unlike anything you have experienced! Availability is limited so get in line early!
Devil's Swamp Haunted Terror Tour
With with an old lantern in hand, guests enter through the mouth of a cavernous skull on foot into this dark swamp of the undead. Voodoo is a dark magic with the power to summon the dead. The legendary Devil's Swamp is the gateway to the underworld where visitors have to find their way to escape this supernatural swamp.
Fright Zones
My Bloody Homecoming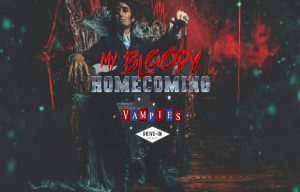 The year is 1957 and it's Angelville High's Homecoming. The team celebrates with a Greasers vs Jocks parade gone very wrong.  As night descended, so did the other team… They're Vampires! It's the first area guests experience when entering the Scream Park! And don't forget to check out what's playing at VAMPIRES DRIVE-IN THEATER!
Temple Of Medusa
Medusa was once a beautiful mortal and avowed priestess of Athena who was cursed after being raped by the sea god Poseidon. Athena punished her, turning Medusa into a hideous hag, making her hair into writhing snakes and her skin was turned a greenish hue. Anyone who looks into Medusa's irresistible gaze is turned into stone… especially men. Cursed for all time, Medusa guards what was once Athena's Temple that she now claims as her own.
The Coven Fright Zone
 Halloween's origins date back to the ancient Celtic festival of Samhain. This ancient Pagan Witchcraft festival of darkness blurred the boundary between the worlds of the living and the dead.
Around the turn of the 18th century, Countess Elizabeth Blair is said to have lured children to their doom drawing blood from them. She was probably the most prolific serial killer of all time, Blair is believed to have murdered 666 people, paying homage to her deity. She tortured and murdered young children she abducted. Legend has it she would bathe in their blood to maintain her youthful appearance. This earned her the nickname The Countess of Blood.
The Countess of Blood was hunted by townsfolk and accused of being a witch with the help of The Malleus Maleficarum. This book, known as the Hammer of Witches, was essentially a guide on how to identify, hunt and interrogate witches. Of course she was found guilty. The witch was put on public display and burned at the steak where it was said, she just WOULD NOT DIE!
Beware of the Blood Countess, for she thirsts for fresh blood to return to her former youthful glory!
Kid Zone
The Kid Zone is an area where you can bring younger kids to celebrate Halloween.  Kids and parents can board an old fashioned tractor-pulled hay wagons for an adventure through the wooded swamp perimeter.
Boogie Spooktakular
Hang out and have fun with face painters, a Haunted Mansion bounce house, Kid Carnival Rides, and kid focused magical entertainment featuring The BOOGIE SPOOKTAKULAR…a cartoon based animated musical adventure! The area will be 'scare light' as Scout Island Scream Park is setting up which means kids may see actors dressed in costumes or hear attractions rehearsals.
Make your own Adventure
We offer a wide variety of experiences including tours and trips. Charter a boat for your fishing trip, spend a night at a waterfront cabin, or play a relaxing round of golf before heading to a sports event or concert we got you backstage passes for. If you want to experience Louisiana right go on a swamp tour or visit a historic plantation….we have it all just give us a call (504) 606-6261!
Expect The Extraordinary from New Orleans VIP Experience
Book Your Trip Today!