Formal Attire Required For Mardi Gras Events, Stay Comfortable While Looking Stunning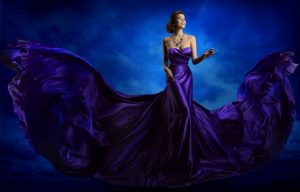 The Carnival season is about to kick into high gear and that means you will attend, most likely, more than one ball. Many of the events will require formal attire, some invitations will actually say "strictly formal". Besides figuring out what to wear you will also have to find a way to make through the night comfortably while looking stunning.
For Women
Formal and strictly formal usually means you need to wear a long dress which should skim the floor, or at least be ankle-length. You will be turned away if you decide to show up in your cocktail dress. Don't forget to bring a jacket or wrap, as some of the venues can be rather chilly. Make sure your dress has the right color as some balls will have color themes.  Prepare yourself for a wild night, that also means you should get ready for your dress to get ruined at some point.  When floats arrive to the Orpheus, Endymion and Bacchus balls, they are still throwing beads and other items from the float. Those items will hit drinks and food on your table which most likely will end up on your dress. People will be partying and somebody will spill something on your gown, don't let this ruing your night!
For Men
Usually formal attire for men means a tuxedo, preferably black.  For "strictly formal" men wear a white tie and sometimes tails. However, styles and fashions are changing. Now, you will also find sequence jackets and some even light up. Believe it or not, we have seen some wear shoes that lit up. Depending on the ball, colorful outfits are becoming more popular these days. And, as you already know, some balls are more fun than others.
Your Shoes
Usually high heels, sometimes embellished with rhinestones, pearls or crystals are expected, but first and foremost, you will have to be comfortable since this will be a long night. Also, beads covering the floors at some balls can be very slippery to walk on especially in very high heels. Remember, if your dress happens to skim the floor nobody will actually see if your are wearing platforms or not. You can also bring a second, way more comfortable, pair and switch shoes at some point during the night.
Make your own Adventure
We offer a wide variety of experiences including tours and trips. Charter a boat for your fishing trip, spend a night at a waterfront cabin, or play a relaxing round of golf before heading to a sports event or concert we got you backstage passes for. If you want to experience Louisiana right go on a swamp tour or visit a historic plantation….we have it all just give us a call (504) 606-6261!
Expect The Extraordinary from New Orleans VIP Experience
Book Your Trip Today!