Make An Entrance At All Summer Events
The temperatures are heating up in New Orleans and there are plenty of concerts and outdoor events to go to. We can get you to your favorite festivals, events and concerts in comfort and style. If you want to get the VIP treatment this summer contact New Orleans VIP Experience today! New Orleans VIP Experience will customize every experience, down to every detail. From the moment we pick you up, to the moment we deliver you back to your pick up location, all you have to do is enjoy. Here a few events you may want to check out!
New Orleans Greek Fest 2019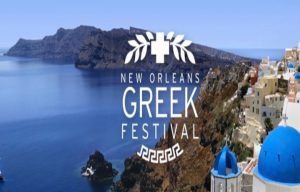 46 Years Strong! Join us on Bayou St. John for the Greek Fest 2019 in New Orleans— As always, there will be homemade traditional Greek food, wine, pastries, and other great desserts! Come see our live, traditional Greek dancing, and listen to the live Greek band playing near the Bayou. Finish up by touring our beautiful Cathedral, browsing the wonderful marketplaces, and visiting our Greek grocery with delectable cheeses, dips, spices, and much more — Opa!
For more information visit: https://www.greekfestnola.com/
Kermit Ruffins & the BBQ Swingers
Come on down to Kermit Ruffins & the BBQ Swingers Thursdays at 7:00pm at Kermit's Treme Mother In Law Lounge! We partying!  $20 to get in w/ unlimited Red Beans and Rice!  Kermit Ruffins and the Barbecue Swingers are a beloved institution – a must-see for everybody New Orleans visitor and New Orleanians  alike. As he helped spur the formation of new brass bands in his 20s, he's since influenced the city's musical direction in the 21st century. Dozens of young musicians and bands are essentially playing the same music Ruffins pioneered with his solo act. They sing into retro microphones, dress in dandy suits and perform the timeless tunes that defined a decades-past era.
For more information visit: https://www.facebook.com/events/1991933274266929/?event_time_id=1991933297600260
2019 Rubber Duck Derby
On Saturday, June 1, 2019, come on out the the Big Lake in New Orleans City Park at 4pm for the Second Harvest Food Bank Rubber Duck Derby. Adopt a duck and get your duck in the race and possibly when a great prize all to provide meals for people who need them across South Louisiana. It's a signature annual fundraiser benefiting Second Harvest Food Bank! Join us to watch over 25,000 yellow rubber ducks race towards the finish line in Big Lake at City Park. Family fun kicks off at 2 p.m. on Saturday, June 1st and the Duck Derby is at 4 p.m. All proceeds benefit Second Harvest Food Bank and our fight against hunger across South Louisiana.
For more information visit: https://www.duckrace.com/nola
Make your own Adventure
We offer a wide variety of experiences including tours and trips. Charter a boat for your fishing trip, spend a night at a waterfront cabin, or play a relaxing round of golf before heading to a sports event or concert we got you backstage passes for. If you want to experience Louisiana right go on a swamp tour or visit a historic plantation….we have it all just give us a call (504) 606-6261!
Expect The Extraordinary from New Orleans VIP Experience
Book Your Trip Today!